Much like any other person, I do like a sip of alcohol now and again. Much like Jesse, however, who tagged me in this, I do not like wine in the least. If my life depended on it, I'd have a small glass of a sweet white, but I much rather have a fancy cocktail or a nice gin (tonic optional). Seeing as this is not the Gin tag, we'll go with the wines and pair them up with some great books. Raise your glass!
Box Wine – a book that people will judge you for liking but you like it anyway!

Easy, the Anita Blake, Vampire Hunter series by Laurell K. Hamilton. This is a series I am steadily working my way through and for the last couple of years that I've been reading it (I'm currently due to read book 12 and read on average two installments a year), I have received more than one questioning look by friends or strangers who saw me reading them. IF not for the slightly erotic covers, then for actually knowing what they were about. Granted, after books ten and eleven, I'm silently judging myself for reading and still kind of liking these books. All that made it so good in the first few books is gone and replaced by porn, but still.. Once I'm done with this series, I have plenty of other books/series that people can judge me over. It can't always be Epicness and High Literature.
Organic Wine – a book that doesn't have any added crap in it and is just written perfectly.

My thoughts immediately went to some of my favourite Fantasy series, but before my fingers found their way to the keyboard, I had to think of a book I read this time last year. The Crane Wife by Patrick Ness really fits this description. There is not one thing I would change about this book, in fear of taking something away from the way it touched me. Patrick Ness has something special in his writing to make me fall in love with him over and over again, but especially this book struck me right in the heart. Emotional, inspirational and soothing are just three of the many words that I can associate with this novel.
Gluehwein – a really spicy, wintry read.

I don't know if it really qualifies as a typical wintry read, but Rebecca Levene's Smiler's Fair does come to mind when I think about spicy, bitter, harsh, brutal, yet beautiful. It's gritty and cold in its environment and tragedy, yet oozes with warmth and eloquence at certain moments that you can't but imagine yourself at a cosy fireplace while a beautiful yet dangerous snowstorm is raging on outside, where it can't touch you for the time being. These were an awful lot of fancy metaphors to say that this book is kind of wintry and a great read at the same time, there you go.
Sauvignon Blanc – a really sharp and aggressive read that you couldn't put down!

By now I've read quite some books that were unputdownable agressive, but George R.R. Martin's A Storm Of Swords has them all beat. My edition is split into two volumes, so it's the second volume in particular that fits the bill here. Sure, I had to put it down once because I was beyond angry, but I soon wanted to return to this brutal world of Westeros where no one is safe. Not even when you're a main character. Hell, if you're a main POV, your chances of survival are even slimmer than that stray dog in the middle of winter. And Winter definitely is coming..
Pinot Noir – a book you didn't expect much from but ended up getting blown away!

I am going to cheat a little bit here and instead of talking about a single book, I'm taking the whole series into account. Cause when I started reading Throne Of Glass by Sarah J. Maas, I did not expect to like it as much as I do. In fact, I didn't really plan on buying the series until I found the first book in a second hand bookshop in London for exactly 1 pound. When I came around to reading it, I kind of liked it, but wasn't impressed at all. But as the series progressed, I started falling for it, and now I can't wait to read Queen of Shadows and the fifth book due for release in the Fall.
Chardonnay – a good summer read that was super-zesty?

When I think about "summer reads", my mind immediately wanders to light contemporaries and more often than not, my brain wants to vomit the words back out so I can forget ever reading them. The last contemporary I did like, however, was Me, Earl + The Dying Girl by Jesse Andrews – and yes, I read The Fault In Our Stars after this one. I really liked the way the book was written, in this script-style and while dealing with a serious topic, it kept it light and humorous without taking away from the issues at hand. I'd like to see the movie as well, one day.
Rose – a book that has a little bit of everything in it.

Whether I do tags or Top 5 Wednesdays, I'm bound to repeat myself into oblivion. If by now you don't know that I'll mention Harry Potter in almost every single tag, then you know now. For this, I'll particularly mention The Deathly Hallows, cause that book really has everything. Excitement, love, loss, fighting, dread, despair, hope, magic, muggles, giants, days, nights, dragons, witches, death, birth, beginnings and the end of what was a journey that contributed a bit to the person I am today. If not more, Harry Potter is at least Rosé.
Shiraz – A full-bodied book that is dark and juicy

When you're like me, and you almost exclusively read Fantasy, then full-bodies dark and juicy is every other book you touch and then some. I have an infinite amount of potentially dark and juicy reads on the shelves, but sticking to what I know, The Final Empire by Brandon Sanderson is more than dark and juicy. What about evil winning and the heroes trying to survive? What is defeating evil does not make things better? How is that for dark and juicy?! And that's just the first book!
Merlot – a smooth easy read with a soft finish.

Smooth and easy is something that describes The Night Circus by Erin Morgentern quite good. This slow burning book that makes you feel at ease due to its atmosphere. Reading this book and becoming fully immersed in it is like floating on a cloud of beautiful words and subtle magics. While the story could go on and on, it comes to a soft finish that feels like it was meant to be. No big climax, no epic battle, just the end of a beautiful story.
Champagne – Your Favourite Book
Repeat. Oblivion. The Time Traveler's Wife by Audrey Niffenegger, but so many others and more that also deserve to shoot their cork across the room – not a euphemism kids!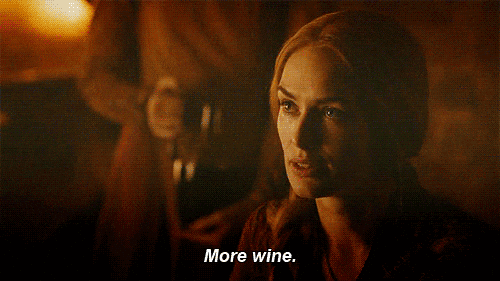 Fancy a drink, Ana, Analee, RedheadedBooklover, Panda, Alyssa, Jess, Nya, Kacie, CW, Bookkeeper's Secret, Becca, Becca, Codie, Chloe, Chelsie, Cinderzena, Elza, Betty, Gel, Emma, Aimal, Aentee and Kat?
If you have already done this tag or have no interest in doing this, feel free to ignore!