Every Wednesday, people from all over the bookish world gather 'round to share their top 5 lists concerning whatever theme that week. All under the watchful eye of the Mother of all Top5's, Lainey.
Valentine's Day is done and gone, so time to shatter all the fluffy hearts and take down the stupid Cupid. If you haven't guessed already, this week top 5 Wednesday is dedicated to all those flings and more serious things that are a no go. Now, on the whole, I'm not all that into love, but more than not I don't really mind the lovey dovey. Some love interests, affairs and whatnots do make me grate my teeth, and these five were on top of my list. No sugary sweetness this week, but arsenic acid with a touch of love on the side.
5. Dorian/Chaol (Throne Of Glass, Sarah J. Maas)

When I was reading Throne Of Glass and Dorian and Chaol were introduced, it was fairly obvious that we were sailing towards the Love Triangle – a dangerous place where many a book has lost me never to see me again. To my surprise, both these ships did not sail for very long and despite the Chaol-ship being quite passionate, both were boring me to death. Luckily there were plenty of other things to keep me entertained, but the love did not do the trick. The fact that I was not fond of either relationship, may be due to the fact that I kind of, possibly, perhaps, maybe ship Dorian and Chaol.. No, crazy stuff aside, I am really still waiting for their lips to lock and more. And it better happen on page before the series end, cause I want it to be canon.
4. Tris & Four (Divergent, Veronica Roth)

Another boring couple is Tris and Four from Veronica Roth's Divergent trilogy. My main problem with them was their lack of any believable chemistry whatsoever. I do believe the initial attraction in the first book, but after that – much like the series as a whole – it went downhill fast and they couldn't sell their love to me anymore. I even wonder if Tris had enough room in her head for more than just surviving and fighting, let alone maintain a relationship. Much like Katniss, she went through some emotional trauma and it changed her as a person,so how much of herself could she give to Four?
3. Richard & Kahlan (Sword Of Truth, Terry Goodkind)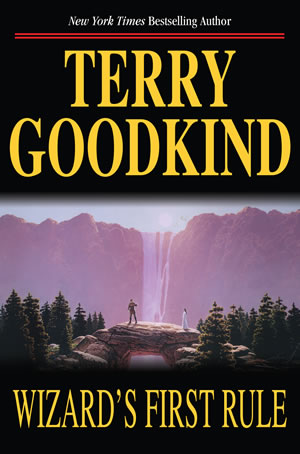 From not enough love to way too many. From the very start of the first novel, it was obvious that Richard and Kahlan were meant to be and for the first half of the series I was actually rooting for their love to survive all the hardship. However, as I mentioned in my reviews, Richard quickly starts developing an ego and behaves like a well-formed derrière and the once strong Kahlan becomes a damsel in distress when the manmeat is around. While they do love each other to bits, the choices they made in pursuit of their star-crossed love lead to the destruction of the great characters they once were.
2. Warner (Shatter Me, Tahereh Mafi)

Thinking about Warner still makes me mad. I didn't mind Adam as a love interest, but when I noticed Juliette started falling for Warner, I was praying to everything and everyone out their to just make this a temporary case of Stockholm Syndrome. Alas, seeing as Warner – despite being a sick psychopath – was a fan favourite for whatever dark and obscure reason, the characters of Adam and Warner did a complete 180 to sell it. Sadly, I did not buy into it and even though Warner explained it all and made Juliette see how great and good and noble he is, he still remains a sick piece of blegh to me.
1. Jean-Claude (Anita Blake, Laurell K. Hamilton)

Talking about kind of psycho characters, Laurell K. Hamilton's Jean-Claude is another prime example. He is emotionally abusive and manipulative, and Anita keeps falling for him. I don't get it.. She is dating this one guy, but since he's jealous he demands he courts her as well or else he'll kill her boyfriend. And she agrees.. I don't get it. His twisted logic on morals also baffles me every time again and whenever she draws a line for a good and solid reason, he manipulates her emotionally to make her go back on her decisions and feel bad about herself. I really liked the strong and independent Anita from the first few books, but now she's just becoming his plaything. She thinks she still calls the shots, but he's the puppeteer. And with the annoying ma petite nickname.. Seriously, it drives me crazy. If I were her, I would have staked the bloodsucker and be done with it. Where's Buffy when you need her.. She knew how to break up with vampires and make us cry over it. Oh Angel, ..
So there you have it, five times a serious case of bad bad love. Do you agree? Which ships would you sink rather than sail? Tell me below!

Click here for a complete list of all the participants in T5W.