Every Wednesday, people from all over the bookish world gather 'round to share their top 5 lists concerning whatever theme that week. All under the watchful eye of the Mother of all Top5's, Lainey.
Christmas is a week away, but Winter is way off here. At the moment, it is above 12°C while I want freezing weather, mittens and hot tea. Hooray for climate change.. Still, let's not spoil the fun and I'll share with you my top 5 Winter recommendations.
5. Patrick Ness, The Crane Wife

When I think of Winter, I think of warm fuzzy feelings and when I think of warm fuzzy feelings, I think of Patrick Ness. More specifically, I think of The Crane Wife. This is a cute little story about love and inspiration, about reaching your potential and believing in yourself. It might not be the most Christmassy book out there, but it sure makes you feel good inside. Definitely fit for reading it on a (perhaps not so) cold Winter night.
4. Erin Morgenstern, The Night Circus

I read The Night Circus by Erin Morgenstern last Winter and I think it was the most perfect time of year for reading it. It breathes this magical atmosphere of the past, it creates and imagery you want to disappear into, and I think that the best moment for a book like this is around Christmas. Whenever I think back on this book, I always remember that one day when I was so immersed in the story that I didn't notice it had started snowing. When I finally came up for air from that magical place, I traded it for another.
3. Audrey Niffenegger, The Time Traveler's Wife

Ok, I admit. Lately, I've gone a bit overboard with shoving this book down your throat, but it just is so good! Despite it being heartbreaking, it also has the most tender moments imaginable. All the love that's going round between these pages has to be taken in this time of year. Also, when the book comes crashing down on you, it's Winter and snowy, so it's perfect reading material for when you're all cuddled up next to the fire.
2. George R.R. Martin, A Game Of Thrones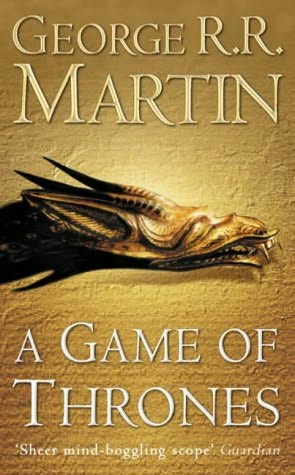 The Winter holidays is a perfect time for catching up with my GoodReads challenge. Sometimes, though, I have already reached my goal and if that's the case, I like nothing more than using this (free) time of year to immerse myself in big books. A good series to do this, is George R.R. Martin's A Song Of Ice And Fire, where snow is falling like there's no tomorrow and Winter is always coming. Especially the first and third book are chilly as a December night on the North Pole and are perfect reading material for when you're right next to that cozy, crackling fire.
1. J.K. Rowling, Harry Potter & The Philosopher's Stone

How could I not?! Not only is this pure nostalgia and thus perfect for Winter, but whenever I think about books and this season, Harry Potter comes to mind. While I think that every book in the series has some great Christmas moments, I always think about The Philosopher's Stone first. Part of it naturally because of the nostalgia and the magicalness of it all, but also because of personal associations with this book and movie. For me, this book breathes Winter. This whole series, actually, cause I read at least the fourth and fifth one during the holidays. So I ask you, how could I not?
These are perhaps not the most Christmassy recommendations you can get, but it are five terrific books that I associate with the season, cold and snow. What about you? Comment away below!

Click here for a complete list of all the participants in T5W