Every Wednesday, people from all over the bookish world gather 'round to share their top 5 lists concerning whatever theme that week. All under the watchful eye of the Mother of all Top5's, Lainey.
With tomorrow being Thanksgiving – not a holiday over here, though – it's only appropriate we say thanks to some of the books that defined our reading life, which gave us life. Without furder ado, here are five books/series I am thankful for.
5. Marc De Bel, Het Web Van De Suikerspin

When I started going to the library as a kid, I was immediately drawn to the books by Marc De Bel, a Flemish author who writes the most fantastic books for kids and pre-teens. It is books like these that opened up a whole new world and made me want to keep on reading. My search for the most amazing books started here.
4. Terry Goodkind, Wizard's First Rule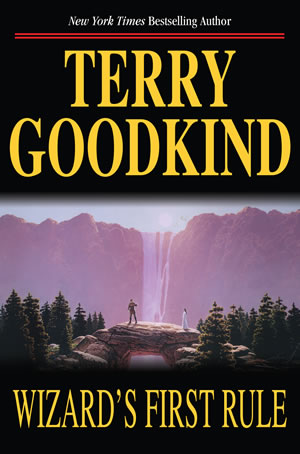 Despite this series going downhill a few books in, I am still thankful for discovering them. At a certain point, when I was 14 or 15, I was looking for something new and at the time, my mum was a member of ECI book club, which meant that you got a nice discount in their store if you bought a book from the catalogue every few months. I saw this one and since the blurb really spoke to me, we ordered it. My first foray into adult Fantasy and I was hooked. I still think back to those cosy wintery Sundays I spent reading this book and the sequel, glued to the pages.
3. Brandon Sanderson, Warbreaker

If I could have a chat with Brandon Sanderson, I would probably keep thanking him for writing the books he's written. I would thank him for the amazing magic systems, the characters, the emotion, … Some of the best moments in recent reading years have been because of his books, and Warbreaker was my Sanderson First, so I am forever thankful for that one.
2. Robin Hobb, Assassin's Quest

Another favourite author of mine is Robin Hobb. I have only read the Farseer Trilogy, but all three of them, the last one in particular, moved me a lot. I was swept away by the narrative and the conclusion ripped my heart out and left it shattered on the floor. So while I am thankful for these wonderful books, I am equally thankful for the ladies of my reading club who kept promoting these books as if their life depended on it.
1. J.K. Rowling, Harry Potter

I try not to always answer every question concerning books in a positive manner with "Harry Potter!", but I could not get around it this time. Whereas Marc De Bel made me enjoy reading, J.K. Rowling made me love it, made me love Fantasy and keeps providing me with the greatest of all reading experiences.
So there you have it, five books I am eternally thankful for. There are much more, but these authors are part of my defining moments in reading.
Have you read any of these? Which books are you thankful for? Comment away below!

Click here for a complete list of all the participants in T5W