Every Wednesday, people from all over the bookish world gather 'round to share their top 5 lists concerning whatever theme that week. All under the watchful eye of the Mother of all Top5's, Lainey.
This weekly meme is slowly starting to become a series of confessions. Here's another one: I barely read any novellas and short stories. Mainly this is due to me not knowing they are out there and often I just stumble upon them on GoodReads when I look at the overview of a series I'm reading. I have read some over the course of the past couple of years, but the obvious ones like Fairest are still missing. Also, since I have barely read any novellas, I've taken the liberty to include short stories here as well. Because I can and because I want. So without further due, five short-ish publishings that I quite like.
5. Janet Evanovich, Visions Of Sugar Plums (Stephanie Plum, #8.5)
I don't know when I started reading Stephanie Plum. It has to be in high school somewhere.. I remember borrowing the first book from the library and I adored it in all its sillyness. I literally rolled out of bed laughing. For real. Since then, I've steadily read my way through the series and as it stands, I'm due to read book 10 (of 22). Slow progress, but I don't pick this series up that frequently and a year can pass without me reading any Plum. Shame, though, cause they are hilarious! This novella is one of the seasonal books between and introduces the character of Diesel, who gets a series of his own, the Wicked … books. Perhaps not the best the series had to offer, but Visions Of Sugar Plums is a nice holiday read.
4. Kevin Hearne, Two Ravens And One Crow (The Iron Druid Chronicles, #4.5)
Did you know I like The Iron Druid Chronicles series? If not, then you must be new to this blog, cause I've been raving about this series for some time now. If, like myself, you are quite smitten with these characters, you should give the short stories a try, cause they are quite good. They mostly read like deleted scenes from the series, and especially this one, which bridges the gap during Granuaile's training, is a very nice addition.
3. Kim Harrison, Sudden Backtrack (The Hollows, #13.1)
Fans of the Urban Fantasy genre should read Kim Harrison's The Hollows series. Thirteen books filled with witched, vampires, werewolves, pixies, cursing and adventure. If you can't get enough after thirteen novels, try the shorts. I have yet to read a big part of them, but the ones I've read are good and round the series out. This one takes place way before the start of the series and gives insight in how some of the series's troubles came into existence.
2. Terry Goodkind, Debt Of Bones (Sword Of Truth, #0.5)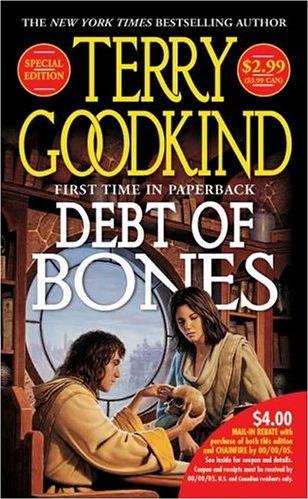 It's not always easy to love everything Terry Goodkind offers. Way back when I was a 15-years old boy, I was highly impressed by this series and loved it to bits. So much in fact, that I kept rereading these books time and time again. Alas, with me getting older and having read more books, I came to understand that The Sword Of Truth is not the best out there, by far. This prequel-novella, however, is a nice reminder of when it all was good.
1. Patrick Ness,The Wide Wide Sea (Chaos Walking, #2.5)
If there is one author I've discovered in the last couple of years and is now an auto-buy, it's Patrick Ness. When the dystopia-train was rolling well, I got off the Hunger Games and launched right into Chaos Walking. Totally different, but so good. In fact, it was so terribly good that, when I was finished with the last book, I found myself without any Patrick Ness so I went on to read the shorts between the novels. While all three of them are good, this one in particular moved me to tears. It's a talent of his, making me cry. Damn you, Patrick, damn you. Even with short stories!
So there you have it, five shorts that I quite liked and are part of a bigger series. Have you read any of these? Which are your favourites? Or are you like me and do you tend to neglect what's happening between the actual novels? Comment away!

Click here for a complete list of all the participants in T5W