Every Wednesday, people from all over the bookish world gather 'round to share their top 5 lists concerning whatever theme that week. All under the watchful eye of the Mother of all Top5's, Lainey.
This week, I present you with my top 5 favourite new authors of this year. Truth be told, when I saw this topic, I was afraid of not getting to five, let alone five that I really really like. The thing is, I'm hopelessly behind on series – if you didn't know already. So most of the books I read is just me catching up. Luckily, I did read some new authors this year and they weren't half bad!
5. Emily St. John Mandel
There was a time earlier this year, or perhaps late last year, when everyone was reading Station Eleven. I was immediately intrigued by the premise, but because of the insane amount of books on my TBR, I didn't get round to it until it was nominated for the BookTube SFF Awards. If you like a different take on the dystopian genre and a beautiful writing style, give her a go.
4. Marie Brennan
Downton Abbey meets dragons? That's what I think of off the top of my head when I think about Marie Brennan's books. That and beautiful covers. In fact, the covers is why I got these books from the boyfriend for my birthday last year. No matter that there was a chance I wouldn't like them, they would still be pretty on the shelf. Lucky for me I did like the book and bought the sequels soon thereafter. Witty, thoughtful and strong characters. That's Marie Brennan for you.
3. Joe Abercrombie
Another one that fits into the category of neglected-because-of-insane-tbr. See, whenever I hear something good about a book or author, I go on exploring and if it suits my fancy, I start filling my shelves. The unfortunate side-effect of buying faster than you can read is that growing TBR-of-doom and the casualties of neglect. Sorry Joe! I really liked Half A King and will remedy the neglect of your back catalogue soon-ish.
2. Sarah J. Maas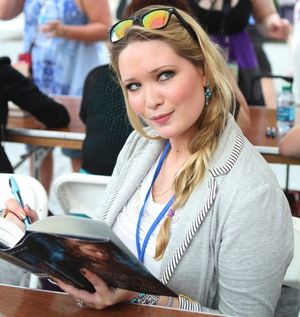 Ah, YA. If you write YA and you don't want to make me scratch my eyes out or send me into fits of cringe, I like you. If you write YA and I like it, I love you. I don't know what it is about the Throne of Glass series, but it clicked so well – at least the first two books did. While it ticked a lot of boxes that would normally have my eyes rolling round like there was no tomorrow, I had no issues with here. Love triangle? I'm picking teams! More romance-stuff and less gritty action? I'm cosying up with some tea! I don't know what it is she does, but Sarah J. Maas does something right. And thus here she is, at number two.
1. Rebecca Levene
If you've perused my reviews, either here or on my GoodReads, you know that I hold out on five-star ratings for those few books that really blew me away. It's only fair that the only five-star book of this year also gets the top spot. Rebecca Levene managed to write a gripping, gritty and rough story, filled with strangeness and love. I wanted to rush to the end, but at the same time I didn't want it to end. She made me care so much for one of her characters it hurt when he hurt and I was rooting for him all the way.
Smiler's Fair is The Night Circus written by George R.R. Martin. One of a kind, enchanting and terrifying. The sequel can't come quickly enough – in my edition, that is.
Do you agree with my choices? Have you read any of them? What are your picks? Comment away!

Click here for a complete list of all the participants in T5W